How To Join the Pleasanton Community Concert Band (PCCB)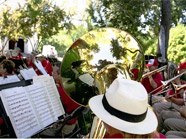 Membership in the Pleasanton Community Concert Band is open to anyone with at least moderate instrumental playing ability. Present membership includes about 70 active players plus another 50-60 persons available on call, all volunteers.
Members range in age from high school students to senior citizens. Most reside in the Tri-Valley Area communities of Pleasanton, Livermore, Dublin, San Ramon, and Danville, although some are from as far away as Alameda, Brentwood, Oakland, San Lorenzo, Stockton, Fremont, and San Francisco.
The Band rehearses on Thursday evenings and performs throughout the year. Most concerts are in Pleasanton and Livermore. There are no dues to join the Band.
For further information, contact the Band's Personnel Manager, Beth at 925-447-7270 or the Conductor, Bob at 925-846-5897. You can also email us via our contact page.
BAND MEMBER TESTIMONIALS
" I was recruited for the band by a friend of a friend.  I'd been a 'band nerd' in high school and hadn't played in ten years–too busy and nowhere to play.  I suddenly had no excuse!  I've made many friends in the Pleasanton Community Band and have been playing (on and off) for 30 years!"

"The band's repertoire has something for everyone."

"I returned to playing trombone a few years ago after being away from music for over 40 years.  A high school band reunion prompted my rekindled interest, but I needed a venue where I could regularly work on my music reading skills and redevelop my playing technique.  The variety and challenging nature of the music we play has provided that venue.  I joined the PCCB upon retirement and was welcomed into the band unconditionally.  My skills have returned and the camaraderie with my fellow band members has made the transition to retirement easier and even more enjoyable."

"I really enjoy making music.  I had forgotten what a pleasure I derive from being part of a group that can bring the joy of music to its participants and the family members and public attending our concerts."
Playing with the band in Golden Gate Park last year is a lasting, wonderful memory.  The Sister-City concert at the Firehouse was played for a warm, enthusiastic audience that seemed to thoroughly enjoy our music."
"I was called in to play a solo for the Ravenswood concert.  I kept coming back because the music was new and interesting."
"Everyone is so welcoming!"
"The Band provides me the opportunities to give something I love to others.  It's rewarding to share my musical talent.  I appreciate and enjoy learning with the Band.  The music director, Bob Williams, is both knowledgeable and informative.  Bob is organized, makes the music interesting, and keeps the momentum going at rehearsals.  It's wonderful to see the diversity of age and levels of musicianship performing side by side at a variety of venues ranging from outdoor parks to indoor theater formal presentations."